Fluid Handling Products
• Ball & Butterfly Valve Seats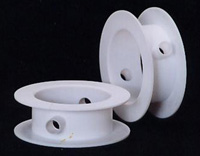 • Envelop Gaskets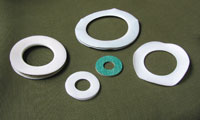 We specialize in manufacture of envelop gaskets. PTFE envelop gasket is a kind of static seal. It is used to seal pipe flange and joint of industrial machinery apparatus. Preformed PTFE gaskets easily drop into the flange and seal it. They are just as easy to remove after use. Made to fit ANSI standard 150, 300, 400, 600 lbs & suitable to flanges ½" to 18". These gaskets & manufactured in Slit ( V-Shape ) & Mill ( U-Shape ) designs along with Compressed asbestos, Asbestos free, Stainless steel corrugated & Rubber inserts. Large diameter gaskets above 1 meter are also manufactured.
• Elliptical Man way Gaskets
Designed to fit Pfaudler® or similar elliptical openings. Other elliptical configurations available upon receipt of templates. Formed type shield with inserts are also offered. Standard ellipses are supplied unless otherwise specified. They are available in various sizes.
• Expansion Joints & Bellows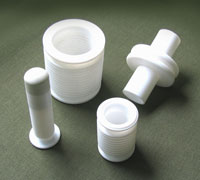 PTFE expansion joints are hot formed from PTFE tube made by a tape wrapping process. The tube is processed in such a manner that the PTFE has a low level of crystalline that confers an improved flex life. The seamless PTFE tube has controlled radial thickness and production methods ensure optimum hoop strength which results into an excellent pressure / vacuum with temperature relationship. In most cases, they can match that of PTFE lined steel pipe work and fittings.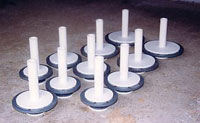 Applications in process industries for use in both organic and inorganic chemical processing and production, including such demanding applications as agrochemical, pharmaceuticals, cryogenics, chemicals and food processing. PTFE expansion joints are manufactured in sizes suitable to flanges 1" to 18" with matching flanges of stainless steel, mild steel or as per specifications. In addition to Valve & Line bellows, specially designed bellows are also manufactured as per specifications.
• Diaphragms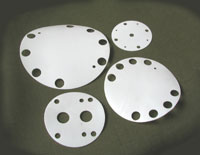 • Lantern Rings
• Nozzles
• PTFE Balls