PEEKTM Components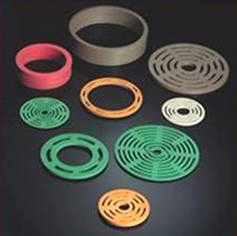 PEEKTM high performance polymer products are the latest addition to our manufacturing range.

PEEKTM polyaryletherketone or known as polyetheretherketone products are manufactured by injection molding technique as well compression molding processes to obtain ultimate inherit properties of the material.
Sarasons offers low cost custom Virgin PEEKTM products & Compounded PEEKTM products with fillers as Glass reinforced, Carbon fiber-reinforced, Graphite and PTFE reinforced.
Disclaimer: PEEKTM is a registered trademark polymer of Victrex® .
• SEAT RINGS
• SEAL RINGS
• THRUST WASHERS
• PACKING RINGS
• PISTON & WEAR RINGS
• STAR GEARS
• DIAPHRAGMS
Applications

Products

Reciprocating Compressor
Piston Rings
Wear Rings
Poppet Valves
Thrust Washers
Screw Compressor
Star Gears
Rotors
Bearings
Automotive
Steering Components
Suspension Components

Pumps
Washers
Gears
Diaphragms
Valves
Seat Rings
Seal Rings

Rotary/Vane Compressor
Vanes
Scroll Compressor
Tip Seal